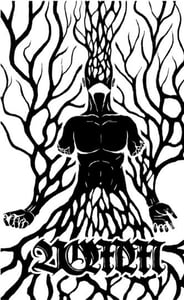 £

6.00 - On Sale
VOMM 'BLACK CATHARSIS' CASSETTE
Self-described as audial insanity as a direct result of unhealthy occult interest, disrupted frequencies, blood letting, cathartic ritualism, social distain, political distrust and self-imposed exile on 'modern life'.
Released in April 2010 on Hell Lies In Others in an edition of 100 hand-numbered copies on black and white cassettes with a silk-screen printed J-card, clear cassette case with a silk-screen printed wrap-around 5-panel outer cover on thick black stock and sealed with a Japanese-style obi strip.
Artwork and design by Stephen Wilson at Black Uroborus.
POSTAGE AND PACKAGING TO EUROPE ARE INCLUDED